This story just hit the news in the USA.
A younger member of the Thai ruling class killed a police officer with his father's Ferrari. No mention that the driver was impaired in any way by drugs or alcohol and no mention of irresponsible behavior on his part. According to press reports, a routine traffic accident gone fatally wrong. Besides fleeing the scene, it's something that could happen to anyone.
Most of the English language discussion is expressed outrage that a young man from a rich family killed a police officer and may escape justice.  I see the story from a different angle. Many expats spend their days ranting and raving about "defects" in Thai society–corruption, poorly run bars, uneducated and unworldly people, greedy bankers, and self serving politicians. Because of my training as a social scientist, I approach visiting a foreign country from a more intellectual point of view.  Thailand is not the U.S. That is what makes it interesting to visit and fascinating to experience first hand. Rather than yelling that it is different, I try to understand why it's different. My intellectual curiosity wants to lay  bare the internal logic of the Thai system.
What interests me about The  Red Bull story is not an example of miscarried  justice but an example of differences between Thai and western society.
The U.S. is a country of laws and rules where Rule #1 is equality before the law. Laws are applied uniformly regardless of wealth, fame, and who your parents are and there is effective oversight insuring the players obey the rules and diligently perform their assigned role. If anything being rich and famous is a handicap because it means the law will be applied more strictly and harshly. Many a  zealous headhunting prosecutor has availed themselves of famous defendants to further their careers and make a name for themselves. Think Thomas Dewey and Rudy Giulani.
In Thailand, the law is a completely different animal. Many laws are openly flouted and unevenly enforced. Prosecutors, police, and judges have and frequently abuse greater degrees of discretion.  Corruption and favoritism are endemic, and effective oversight of judges, police, and prosecutors is absent. Prosecuting the rich and powerful can be a career ender rather than a career maker and strictly enforcing the law can mean a fortune in bribes foregone. In Thailand, there is no guarantee that the accused will get a fair hearing and the innocent will go free.
Thailand also has way fewer laws and vast areas of personal behavior which are monitored, regulated, and criminalized in the U.S. are considered personal matters, subject to personal choice, and are not regulated by the government and the Thai police. Large swaths of peoples lives are the sole purview of the individual – alimony for unregistered marriages, child support, wife beating, abortion, and child rearing among them. The scope of the law is way smaller in Thailand and in a significant dimension there is more personal freedom than in the U.S.
So what unique features of Thai society are present in the Red Bull story?
In the U.S., when a fatal traffic accident occurs there is relative certainty that people will be identified, run down, and anything criminal will be investigated. This isn't the case in Thailand and it's no different in many developing countries where it's possible to move to another town, change your name, leave everything behind and start a new life. Driving away from an auto accident frequently means getting away scott free,  whereas in the U.S., running can transform an unfortunate accident where no one is really to blame from a non-criminal affair into a criminal one.
In a way, its rational to run in Thailand. If there is no certainty that blame and costs are going to be apportioned according to a known set of rules, staying around is an invitation to be robbed and blackmailed. Either the patrolman on the scene, the captain back at the station, or the prosecutor handling the case is likely to use the accident for extortion. Add into the equation a high probability of successfully running and simple cost/benefit calculations frequently make running the welfare maximizing course of action– whether you are guilty or innocent. In Thailand, hanging around runs the real risk that the innocent will be blamed, punished, and forced to pay.
The young man's action are understandable if not morally acceptable.
In the U.S., everything is criminalized and punished with jail time. It seems to be a favorite tactic of the nanny state to take any behavior, make it a criminal act, and attach prison time. It's the cheap and easy way for government to force changes in people's behavior. You don't have to maintain a large police force, employ lots of prosecutors and judges, and maintain large prisons. Don't try to  catch everyone who breaks a law and impose a proportionate penalty. Just catch one person impose a horrendous cost and everyone considering breaking a law will think twice. It's cheap and effective as long as you don't care about real justice—the fact that some random person pays a horrendous cost for a minor "crime" while many others go free. Criminalizing everything is cost effective if you don't care about real justice and want to control and regulate a multitude of mostly harmless behaviors because they offend somebody else's sense of right and wrong.
Tell people how they must behave and if they ignore you impose a horrendous penalty -one that is out of all proportion to the crime to force compliance. You can see evidence of this in the bulging prison population and the immense amount of money spent incarcerating people in the U.S.
For poor countries like Thailand, there simply isn't enough money to keep large portions of the population in jail and when people are poor, leaving crime victims uncompensated is injustice in and of itself. Making people pay compensation, not to the government, but to victims is a more rational, economic, and humane punishment. It punishes the guilty and brings some real relief to the victims.
In the end, the young man is unlikely to go to jail or face criminal charges—fodder for Expats in the English language press to rail on about "evil" Thailand. What happens in Thailand is that he will make an apology to the man's family. An apology that most likely will be sincere and heartfelt. Negotiations will commence between the deceased family and the young man's family. Given the wealth of the grandfather a significant monetary settlement will be made. You cannot bring someone back from the dead and the money will help the family make up for the loss of the family breadwinner and insure that his family is not forced into destitution or become a burden on their extended family. The young man will have to live with what he has done and most likely it will cause profound changes in his conduct and how he conducts his life. Expats will rail on about the inferiority of the Thai system but in my humble opinion, in this type of case the Thai way is the better and more humane way for both victim and perpetrator.
BigBabyKenny
——————————————————————–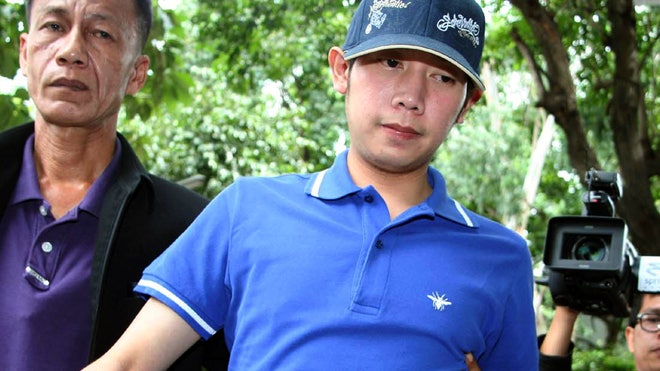 Red Bull Heir Arrested in Deadly Hit and Run
BANGKOK –  A grandson of the creator of the Red Bull energy drink has been arrested for driving a Ferrari that struck a police officer and dragged his dead body down a Bangkok street in an early-morning hit-and-run, police said Monday.
Police took Vorayuth Yoovidhya, 27, for questioning after tracing oil streaks for several blocks to his family's gated estate in a wealthy neighborhood of the Thai capital.
He was facing charges of causing death by reckless driving and escaping an arrest by police but was released on a 500,000 baht ($15,900) bail.
Vorayuth admitted he drove the charcoal gray sports car but said the police officer's motorcycle abruptly cut in front of his vehicle, said police Maj. Gen. Anuchai Lekbamroong, the lead investigator in the case.
Bangkok's top police official, Lt. Gen. Comronwit Toopgrajank, said he took charge of the investigation after a lower-ranking policeman initially tried to cover up the crime by turning in a bogus suspect. Comronwit himself led a team of officers to search the compound of late Red Bull founder Chaleo Yoovidhaya, one of Thailand's wealthiest men before he passed away this year, and confiscated a Ferrari with a badly damaged front bumper and broken windshield.
The victim, Sgt. Maj. Wichean Glanprasert, 47, was killed during a motorcycle patrol before dawn. Thai media reported that the car dragged the officer and his motorcycle for several dozen meters (feet) as it sped through the residential neighborhood.
Comronwit said he suspended the police officer who attempted to subvert the investigation.
"A policeman is dead. I can't let this stand. If I let this case get away, I'd rather quit," he told reporters. "I don't care how powerful they are. If I can't get the actual man in this case, I will resign."
Vorayuth did not speak to the media but the family lawyer said the family will be take responsibility for the damages.
The Yoovidhaya family was ranked the 4th richest in Thailand this year by Forbes magazine, with a net worth of $5.4 billion. Red Bull creator Chaleo Yoovidhaya died in his 80s in March, leaving his heirs a wide range of businesses, including shares in the globally popular energy drink brand, hospitals and real estate.
The family also co-owns the sole authorized importer of Ferrari cars in Thailand.